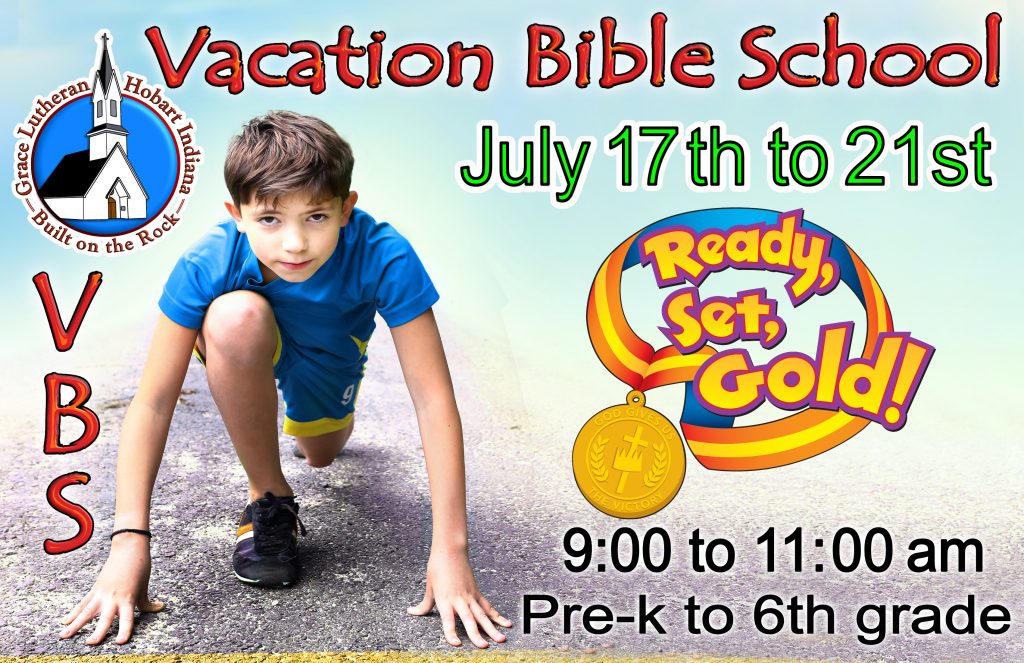 2023 Vacation Bible School – July 17th through July 21st
9:00am to 11:00pm
Ages: Pre-kindergartens to 6th graders
Overview:
We are offering a fun-filled weeklong day camp (from 9 to 11am) so kids can learn and better understand the Good News of the Bible!

Kids will hear inspiring Bible stories plus how it applies to Christ and His wonderful saving Grace, along with age relevant games, projects, and songs.

This year's VBS event is titled "Ready, Set, Gold!"
Each Day's Bible Story Theme:
Monday July 17th: "God Wins the Victory!"
Tuesday July 18th: "Josiah Trains in the Word"
Wednesday July 19th: "David Trusts in God"
Thursday July 20th: "Caleb and Joshua Serve the Lord"
Friday July 21st: "A Woman Celebrates Good News"
Sunday July 23rd: A Special Service with our VBS kids singing the songs they learned during the week. Also, projects will be posted for viewing in the hallways.
We will also have a Social Picnic after the service with plenty of food and lots of fun for young and old to enjoy! Bring the Grandparents!
For a deeper understanding:
The purpose of our Vacation Bible School is to present the two great teachings of the Bible: the Law and the Gospel. The Law shows us we are sinners who need a Savior. The Gospel shows us our Savior, Jesus, and what He has done to save us. The Gospel creates and strengthens faith in Jesus through which we possess forgiveness of our sins and eternal life."
VBS Daily Lesson Summary
DAY1 Story: God Wins the Victory! (Exodus 17:8-16; Luke 22:47–24:9) Aim: How has God won the victory for us? Truth: God sent his Son, Jesus, to win the victory for us. Memory Treasure: Thanks be to God! He gives us the victory through our Lord Jesus Christ. (1 Corinthians 15:57) Key Word: Win!
DAY2 Story: Josiah Trains in the Word (2 Chronicles 34:1-19,29-33; 35:1-19) Aim: How does God's team train? Truth: God's team trains by learning and obeying his Word. Memory Treasure: Your word is a lamp to my feet and a light for my path. (Psalm 119:105) Key Word: Train!
DAY3 Story: David Trusts in God (1 Samuel 17) Aim: What does God's team trust? Truth: God's team trusts that God is on its side. Memory Treasure: Trust in the LORD with all your heart and lean not on your own understanding. (Proverbs 3:5) Key Word: Trust!
DAY4 Story: Caleb and Joshua Serve the Lord (Numbers 13:1–14:38; Deuteronomy 31:1-8) Aim: Whom does God's team serve? Truth: God's team serves God and others. Memory Treasure: As we have opportunity, let us do good to all people, especially to those who belong to the family of believers. (Galatians 6:10) Key Word: Serve!
DAY5 Story: A Woman Celebrates Good News (John 4:1-42) Aim: How does God's team celebrate? Truth: God's team celebrates by praising God and by telling others about him. Memory Treasure: Praise the LORD, O my soul, and forget not all his benefits. (Psalm 103:2) Key Word: Celebrate!
The picnic will start after the service, and everyone is absolutely welcome!
The picnic is largely a time of community gathering for our members and visitors, to get to know each other better and to reflect on the past week's VBS. There will be plenty of grilled hot dogs, hamburgers and other refreshments, plus an abundance of space for fun and recreation, even a bounce house for the kids to play!
Note: In order to have a more accurate count and to save time on the first day, please pre-register your children for VBS by calling 219-947-3449. Or if you have any questions, Thank you.